Professional CV Resume Design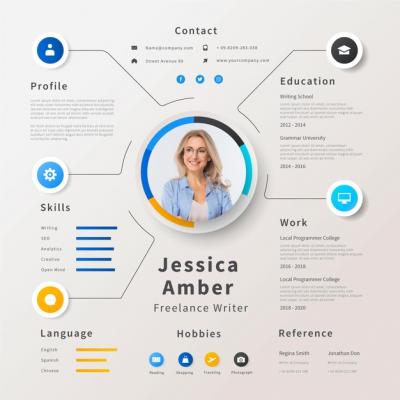 - Job Hiring
- Email sent
- No response
- Sad qualified person who doesn't know how CV design is important
For recruiters it's too hard to find you – as a qualified one- from all of these papers, so you need to show that you are the one he wants from your CV design. Therefore, your CV is responsible for the first impression of yourself. As many recruiters say " we have to ignore many CVs because it's hard to read or not organized". So imagine you write down your data, qualifications, training, and skills perfectly but choose a bad or not organized template. Exactly, you won't have a chance.
How To Write A Professional CV?
There is some important information you shouldn't miss when you write your CV like:
· Your data: it must contain your first 3 names, your title, contact information (Email, LinkedIn profile, and phone numbers), and your home address. Make it Clear
· Summary: it's about a 100 words paragraph you must write to explain more about your qualifications and skills. Make it attractive
· Work experience: start it with the latest position, then your previous ones. Mention your responsibilities. And tell them about goals you achieved by numbers if possible.
· Education: just mention your highest degree.
· Skills: it's so important to be honest when you are talking about skills and don't mention any skill you haven't. The second rule is to mention skills that are related to the offered position.
· Additional section: you will find an additional section at CV templates and you can use it to write more about your courses or training...etc.
After learning some information about writing a professional CV. It's time to design it.
How to design a Resume?
Although there are many CV templates, you should choose your cv design wisely. As there are many rules you have to follow to design your cv like:
The industry matters:
your target industry affects design cv, especially design colors. If you are working in a creative industry like designing or marketing you should use bright colors on the other hand if you work at a business you should use dark colors..etc.
Make it mobile-friendly:
it's so important to make sure that your cv is mobile-friendly as many recruiters save it into their mobiles to read it.
Update your skills:
nowadays it's important to update your skills as companies searching for a self-learner. So mention that skill and use icons to attract her.
Be careful with the font:
Cvs font sizes should be between 11 and 13 points. You should also use the Serif font as it's easy to read.


Follow cv design trends: imagine that you are applying to a designer role in a creative agency with your flat cv (flat cv is the first shape of cv designs which contains information about u without any creative ideas), and there is many creative CVs which follow trends such cv that tells a story or uses drawing shapes. The hr may ignore you as you aren't out of the box. So try to follow trends when you are designing your cv.
In the past, you had to use Photoshop or any other designing program to make a professional CV or you could go to a designer and tell him something about your career then let him do this mission. Nowadays you don't have such effort to design a cv as there are many cv templates you can use to design your own.
Curriculum Vitae CV Templates
As we said before. Now it's easy to design your perfect and professional cv using the right cv template. There are many programs you can use templates which are offered by it but be careful about the cv industry. Generally, you will find templates to:
Creative industries

General template

Marketing industry

Writers

Social media

Personal branding
You can also use Tasmimak website. It's considered as the easiest program for non-designers. It has many tools you can use to make a professional cv.
Conclusion

Be careful with your design cv as it's like the entrance of your home. The more you make it beautiful and organized the more your guests take a good impression of you. Watch out.