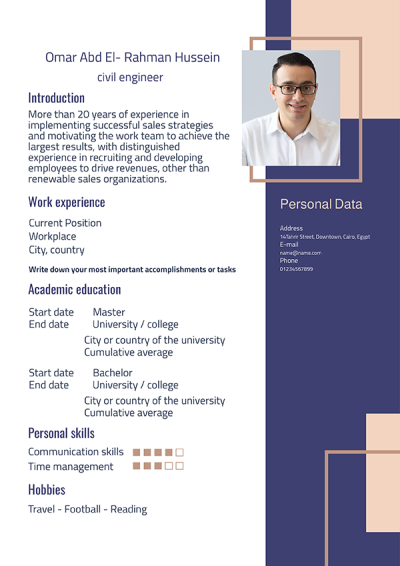 If you wanna Create a Professional CV, you have to take care of some principles during creating it. In this article, I will talk with you about the best fonts and sizes to use with your CV after talking about some principles about creating it.
Principles For Writting a Good CV
There are some principles you have to take care of while you creating your CV like :
Your contacts

Summary about you

Work experience

Education

Skills
Additional sections like pieces of training and courses. This is the role you have to follow when you write your cv in order to make it as professional as your skills.
You must make sure that it's mobile-friendly, as recruiters can use their mobile in reading it.

Make it matched with the industry you want to take a role in. it's so important to be as modern as the other candidates or as formal as the industry seems.

Make sure that your skills are updated. All of us know how to use computers but just some of us have the ability to learn by ourselves. So be updated with the industry needs.

Make sure that your cv isn't very old fashioned. Catch trends and make your cv stand out from the noise by being creative and well designed.

The last piece of advice is to be careful with the font and that is what we will talk about in the following paragraphs.
Best fonts for Resume
When we design our resumes, we aim to make sure that our CV will be noticed, read, and persuade the recruiters. This goal can't be achieved if we have no idea about the right font we must use, and here are the best fonts for CVs.
It's one of the classic fonts which succeeded in being the king of fonts with CVs. Times New Roman Font is very clear, professional, formal, and all of these values need to be added to your CV.
They are one of the best fonts you can use, as they are so clear and readable. Helps to make your CV look as professional as you are.
You can also use the Helvetica font besides Cambria, Georgia, and Muna. All of them have the same advantages as Arial and Times roman. These fonts you may use with your CV especially if you create it with your word or use a pre-made template.
Generally, you can use fonts with Serif and san serif family. These two families are the best with CV or any other formal design. And if you want to check fonts and use the best for you, you can visit google fonts and download whatever font you want to use. Don't forget to choose from serif and san serif. Avoid all fonts that are Difficult to read, Un formal Like handwriting fonts, as it's not professional at all.
CV Templates
Another option that helps you to avoid the mission of choosing the right font and make it with the right size (from 10.5 to 12), is to use pre-made CV templates. These templates are made by professional recruiters and designers, they are offered by some design programs like:
Tasmimak: it's a design website that was created for non-designers. It offers many clear templates you can easily use to build your cv. You can find a special template for each industry. I recommend it as it's very easy to use.
Conclusion
Your CV is the first impression for you. Make sure that the first impression about you is creative, professional, and well designed. Make sure that you choose the right element for each paragraph. You can know more about cv by reading CV designed articles.