Build a Brand Awarness with Business Card Design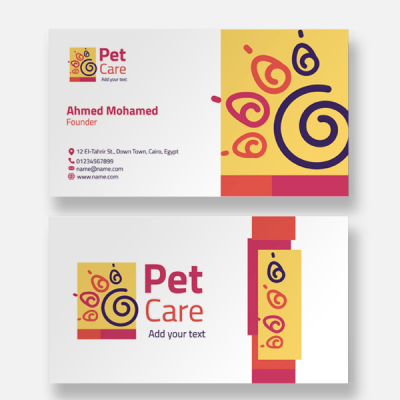 Things that represent you are your business card. What do you want it to be like? Do you want it to reflect Wealth and Power? Make it black. If you're a conservative practical person who wants his card to seem timeless, use Grey. Blue can be compatible If your Organization is super customer-oriented. It reflects the elements of Reliability and Trust. Yes, the elements of colors do play a big role in drawing the first impression about your business, you can check the color psychology for more information.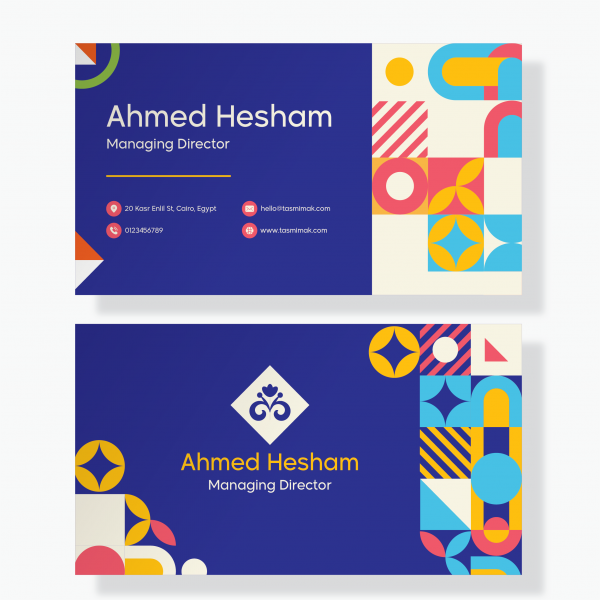 Modern Managing Director Card (browse More Business Card Designs)

How to build personal Branding using Design
When it comes to Human Resources, they get branded differently. Employees or Figures usually fall under the aspect of how good they can serve the organization and the society. Qualities like Social Skills; how good can they deliver their vision to the people, or maybe perfect the art of negotiation. Secondly, experiences are what usually qualifies someone for a Job, and also, they are what gives you opportunities and Ideas. A good experience allows you to transcend. A bad experience will trigger the entrepreneurial spirit with an idea to solve it for the others. Based on who you are, it is how you will be presented.
Recommended: How to make a company portfolio
Though about a slogan? The big news is that you don't need a graphic designer to be perfect that blend since Tasmimak platform is designated to make a professional output without the need for experience. Our platform made graphic designing so easy as editing your picture for an Instagram post.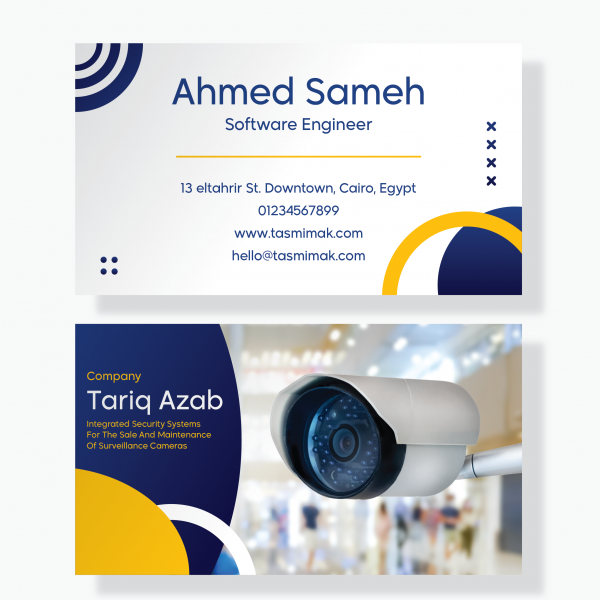 Simple Business Card Design (browse More Business Card Designs)

Language of business card Fonts.
Also, are you aware that also the fonts are like colors, everyone reflects their psychology? For instance, fonts like Serif and Times New Roman tend to reflect knowledge, science, and academia; that is why Wikipedia uses it for instance. So, if you're an R&D, Educational, technological, or scientific institution these 2 can reflect your best vision. On the contrary, if you're a Traveling Agency, Nursery, or Event organization, your fonts should be reflecting the element of fun. Display Fonts like Jokerman and Gigi can be relevant to your scope. One of a kind? Novel? Passionate? Use Script. Finally, if your vision is all about Stability and Objectiveness, maybe you are a Financial, B2B, or Consulting Organization. These forms of companies tend to use Sans Serif fonts.
Recommended: Google fonts arabic
Latest Business card Design Ideas.
This is the 21 Century. We are entering a new era, the digital age. If you want to draw a contemporaneous impression, you should implement things like the QR code on your card. Have you heard about the AI Brain-shipped monkey that pleases demo better than a 12-year-old? Yes, dystopia is here. Adept to these changes through the 3 prominent colors of the Age. Black. Grey. White. That is right! We live in the decade of the future. Maybe your design should be inspired by the Sci-fi movies, where they held transcalent cards. This might or might not be the space decade but for sure it is the Covid decade. Passing out businesses' cards could also mean passing out infection. But since we live in the future, you can prevent that by using an Anti-microbial biostatic protective coating, and mentioning this on your business card will send an impression of awareness that doesn't exist anymore. Lastly, do you know what most people like? Irony. You could mesmerize someone if you added colorful gradients with dark backgrounds, and it works every single time. Take a look at Apple's iPad Pro on their websites and see the color gradient and the Smooth transitions they acquired.