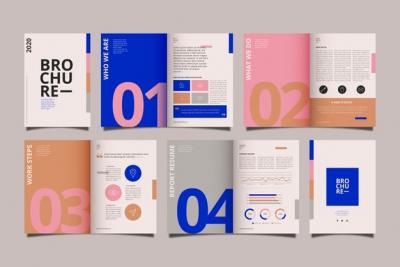 One of the studies that were carried in the nineties was to see how the portfolio can differ in the selection between two candidates. Portfolio would be the key card that would make a customer chooses a certain company over another. Portfolio is the compilation of all the materials that that would be stating a lot about the beliefs that we have or the company or an organization, the skills that you own, the work that you can do and that which you have excelled at and the ethics that you hold as well as the successes that you managed to achieve. Also having a great CV template to give like a summary about your work, It will help you accepted to your job you are looking for.
Should you have a portfolio?
We all come to search for jobs in parts of our lives. Some of us struggle to find the right job and others manage to find their dreaming job. However, sometimes a job is there and free and yet, many of us would apply and only one gets the job. Have you asked yourself why? It is because he had something in his CV and his application that made him stands out from the rest. He was able to make an impact without actually going to the interview. He was able to create an influence with a portfolio that he was able to list. Although others might be having the same qualifications, he managed to state them in a way to impress. Portfolio related you to the career you want to pursue and interested in. you can choose and select the skills that you find them critical for the job and choosing the relevant experience that helps you out to better articulate how you can manage the job and even take it to completely another level. A portfolio has to be professional in whom it is your opportunity to show off and to show the employer that you are the one they are looking for. A well written portfolio shows the value that you shall offer to the organization.
Things You Must Include in Your Creative Portfolio
1- Authenticity
Show how original you are by stating that this is confidential and indicating that what you are writing is confidential and personal and not to be copied especially if you will add some of your work samples.
2- Your Philosophy
How you like your work to be done and what principles you follow or the values you hold. Write about how you perceive your work and yourself.
3- Career Goals
What aspirations and vision that you have for the next period of your life. People with vision are more inspirational than others.
4- Resume
Attach your resume and you can write, "kindly find my CV attached".
5- Skill areas
Here you can state what are the most 3 to 5 main skills that you have and that distinguish you from the rest. These skills have to show how they are very important for a person who will be working this job. For example, if you are applying for sales, then sales negotiation, target oriented, selling skills and if you are applying for customer service, then skills as customer handling, listening skills and communication. Moreover, you can adapt your skills to the job you are applying for.
sample work portfolio template
Do you know that if you attached your work samples, then it will be highly differentiating you than others? Very few people think of attaching their sample work portfolio template. You can attach your work samples as follows:

You can state the career related projects and the activities that you are busy with at the moment and you are currently working on them.
Certifications, Awards, recognition, Degrees, Diplomas
Here you can include some copies that show the achievements that you have achieved as the certifications and the skills that you attained.
If you are sharing in a project or an initiative, you can include pictures, work samples that would definitely reflect your experience and show the degree of involvement that you accomplished.
Membership and Professional certifications
You can include documentations that show the level of professionalism you have as conferences, meetings, and resources that show your field of interest.
If you like and feel safe about it as well as confident, add three references that you find that can help you whenever the employer wants to verify any information as listing three to 5 people and they can be your supervisors, managers, colleagues or faculty members. They don't have to be from your old employer but they can be from any project that you are doing in the community or the society.
Here you can add copy of your transcript that shows the classes that you have attended, your major study, and your grades.