Wedding Invitation Ideas for Every Wedding Style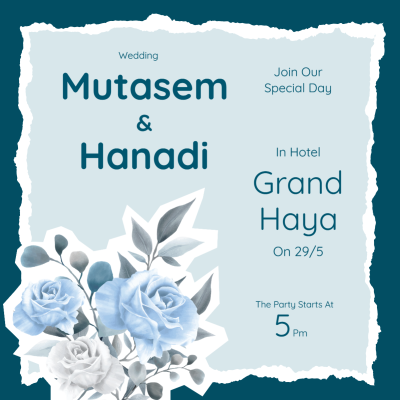 Wedding invitation ideas
When it comes to the big day in your life, then definitely, you have to do it with so much elegance, creativity and most of all, to stand out. Let your invitees, family, friends and everyone be inspired by your wedding invitation. This is the day of your life that you shall remember forever. It is the event that has all the eyes on it with a lot of emotions, excitement and love. Moreover, Tasmimak has got your back. You can have the most amazing wedding invitation and inspire, impress and influence everyone. Let them share your happiness and joy on that day. Start now!
Marriage Twitter Post Template
Amazing wedding invitation template design collection
This is an amazing wedding invitation design template collection that shall blow everyone's mind. You don't have to pay a lot of money to get the wedding invitation of your dreams. You can drag and drop any of the invitations you like and you will find the editing tools departure open up for you. You can edit and customize very simply and easily. You can add colors, themes, use different ideas mixed together and change the font. You will be the designer of your marriage card and you shall add your ideas, dreams and wildest thoughts. Start now and the online card maker shall help you out with the design. Some of the wedding invitation design templates are as follows:
White and Gold colors design template
white and gold colors never fail to create luxurious and the most outstanding design ever that matches the magical day of your lifetime. gold in the font always sends a luxurious feeling and impact. Create an impressive influence and stunning effect.
Wedding Invitation Instagram Post Design
Off-white background design template wedding invitation
This is one of the most amazing designs since the off-white background always sends feelings of nature, elegance, and stylish design. leave an outstanding impression with picking this color for the background as it shall lead to a sensational and joyful effect like no other.
Gold and off-white design
Usually, these colors are the colors of choice. They can create a magical effect like a fairy tale. get an outstanding and impressive wedding card invitation that shall never fail to give you the effect of charming, impressive, and inspiring effect like no other. All the wedding card design templates are editable and 100% customizable. you can customize in no time by adding your favorite texts and your chosen style of font. get your invitees impressed and inspired by picking one of these amazing designs. Stand out and get your favorite design like no other! get the chance to be your own professional designer.
Modern Wedding Invitation Template
Start now and get the charming and fairy tale wedding invitation like no other. create the magical effect and get the eyes to your wedding invitation. spread joy, happiness and let everyone share with you the exciting moment of your life the best with these amazing and stylish designs. Stand out and create now!