Creative Design Ideas for Ramadan Twitter Templates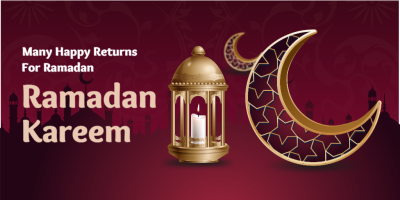 Twitter Content Post
Create an amazing Twitter post by choosing one of the most creative Twitter post design templates from this collection. This is the ideal step to get you the highest views, the boost you are looking for and the highest engagement. Choose now by the drag and drop feature. Customize by the use of the online post design maker that shall guide you through the editing and the customization process in a few minutes. You can now add your images, texts, colors and change the typography as you want. Start now and see the massive coverage and the exposure of your posts. You can get the most out of your Twitter post with these amazing and creative posts. Without the need of having any prior graphic design experience , you can create your own now!
Ramadan Kareem Social Media Twitter Post Design
Different and creative Twitter post design templates ideas
This pool of Twitter post designs have been created by a professional team of graphic designers and they have facilitated the process of editing and designing so that they fit the use of everyone of non- professionals. Moreover, you can drag and drop the design you like; you will find the online post maker that shall show you the way out through the design step by step and in a very easy way. See how your design shall lead to the highest views and how it shall impress, influence and inspire your viewers. There are multi- ideas of the templates through which they are offered accordingly. Some of the ideas are like the following:
Twitter Header Ramadan Kareem greeting Islamic Card
Blue and Gold colors mix never fail to create a luxurious, elegant and unique design. You can customize in no time.
Ramadan Kareem Luxury background Twitter post template
This is a very elegant design in which the gold color is well customized in this template design in showing off the design as a simple and yet, very sophisticated one. It is perfect for a wonderful impact in Ramadan for the best effect.
Post Twitter design Ramadan Kareem post template
This is a very eye- catching design for Iftar time in which you can write your text and add your content. It is definitely leading to a boost in your engagement and interaction with your targeted audience.
Twitter Post Design Template of Ramadan Iftar Time
Ramadan Kareem Greeting scarf on mosque twitter post
This is one of the creative and breathtaking designs in which the red and the white colors are well used. The design is capturing and captivating in which it is definitely exceptional and unique like no other. Start now and create a captivating, creative and catchy twitter post like no other. You can customize the twitter template that you like the most with your colors, texts and shapes. You can customize it well with the best design ever. If you are looking for engagement and uniqueness, then start now and create the most well designed and well- distinguished twitter post design ever. Show passion, show competitiveness and show elegance in your amazing design and choose now.