Catchy Easter Design Ideas | Easter Promotion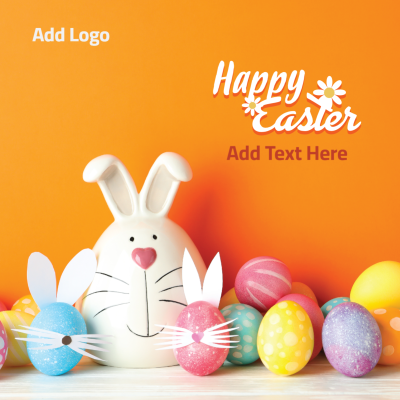 Easter Ideas
Easter is the spring season and it has with it colorful flowers, bunnies, and joy. It has its exclusive feeling and emotions that everyone shall be feeling like no other. Stand out and have the most wonderful spring design template that shall provide you with a unique and yet, a standing out template design. Easter greeting cards are received heavily in this season and thus, finding the creative Easter design card is challenging. However, Tasmimak has got your back as this collection of Easter design templates are very creative and catchy. You can pick the Easter design template that you like the most and customize it with your favorite colors, texts and images. Start now!
Creative ad distinguished Easter card ideas
Tasmimk is offering one of the most well- distinguished card designs ever that shall provide you with all your expectations and dream Easter card. These collections of Easter cards are very joyful and creative like no other. You don't have to look else here and you can start immediately to drag and drop the design you like the most. Easter is the season of joy, love and flourishing flowers. Moreover, make most of it and choose the most outstanding and unique Easter card in a few seconds and start to customize. Some of the ideas that are offered here that you shall find are like the following:
Happy Easter Post design online | Facebook post design template
This design template is speaking out loudly with the white flowers that are offered in the design that reflect the spring season like no other. You can have the most of it with this attractive and catchy design. Stand out and have a catchy design to draw attention and speak loudly with your greetings like no other.
Happy Easter post design online
Post Easter Post ideas
This design is amazing with the colorful eggs along with the beach view of the sea, seashells and sand. This template is reflecting one of the fresh designs like no other. It has an attractive way of saying out loud how Easter is joyful.
Cute Social Media Posts for Easter
Post Cute Easter design online
This basket full of flowers, colorful eggs and cupcakes is one of the catchiest designs that with its colorful colors of the yellow background and the mix of colors is delivering the message of having an attractive and catchy design like no other. Choose now and stand out.
Post cute Easter designs online
Post Religious Easter poster ideas Facebook post design template
This design template is one of the nicest as it is showing the bird's nest, along with the colorful eggs and the white flowers on a light blue background. This design template is definitely having a powerful ability to spread the joyful and delightful spirit of Easter like no other. Choose now!
Easter Social Media Posts for Business
This is one of the amazing collections that has the ability to blow minds, stand out and has uniqueness like no other. Choose now and have an edge over all the other greetings that your network shall receive. Drag, drop and customize in very simple steps. Create now!