Black Friday Design Ideas for Marketing Campaigns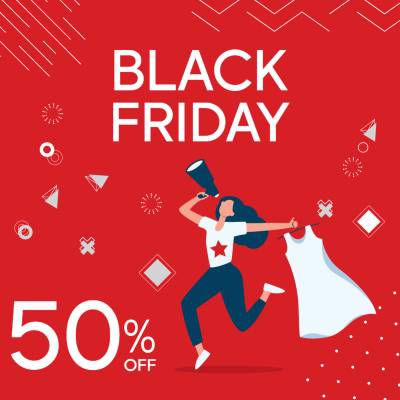 Black Friday ideas
Black Friday is one of the most impactful events that companies and brand names would be using to increase their sales, get the revenues that they want and increase their exposure. This is the season through which it can get more sales than the sales at any time of the year. Moreover, you have to be very keen with your design. Get the most impactful design that shall generate your sales and get the highest coverage and exposure ever. Show passion, professionalism and uniqueness with these elegant and creative designs. One of the most important characteristics of your Black Friday design is to be catchy to the eyes and get you the highest views. You need to stand out. Get your design now!
Women's Targeted Black Friday Post Design
Variety of Black Friday design template ideas
This collection has been created by very creative graphic designers who want to stand out with every design that they create. Shoot for the stars and get the design that shall impact your sales and get you the highest reach. Every Black Friday design template is editable and 100% customizable. Moreover, you can edit and customize like no other. Make it yours and incorporate texts, colors, themes and shapes as you want. This collection is having a very differentiated and standing out collection that shall create the highest impact ever. Some of the ideas that are offered here are as the following:
Black Friday Facebook post
This facebook post is designed in colors of black and yellow. This mix of colors are very attractive, appealing and shall definitely get the attention to your post. Choose now and customize in a few seconds.
Creative Black Friday social media posts easy editable
Black Friday religious posts
When it comes to Black Friday it could relate to Christians who on this day, they mourn and it links to one of their big spiritual days. If you want to choose a design that is attractive and at the same time, spiritual, then you have many ideas. Some of the ideas are as the following:
Post Social media design the Great Friday
This post design has the holy cross along with the thorn crown. The design is created of a mix between the orange and the white colors which is very appealing and definitely, it reflects the meaning perfectly.
Post Instagram Post design online the Great Friday
Black Friday post Ideas
This post template is customizable in which you can customize by adding your text. The use of the red and the black colors is perfect to convey a strong message of mourning and of greetings like no other. Stand out with the perfect design and show elegance and uniqueness like no other.
Best Instagram Templates for Black Friday Offers
Tasmimak is offering you some of the well-distinguished designs that shall leave everyone speechless. Whether you are looking for a great Friday post or a Black Friday post for sales, in both cases, you shall find here the most stunning and creative designs that have been created especially for you to edit and customize in no time. Stand out and get the most out of your design. Choose a catchy design now!