The most Creative Menu Design Ideas for Restaurants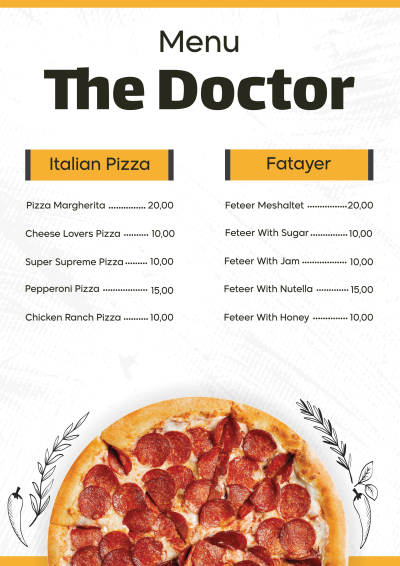 Menu design ideas
Are you looking for an artistic menu? Are menu designers in the market quite expensive? You don't know where to start? Then, this is the right place for you. Tasmimak has got your back. Get the menu design that draws attention, catches eyes, and urges viewers to be potential customers. When it comes to the way that you present your recipes and meals, then, the ideal choice is having an attractive menu design that is appealing to the eyes and affects the taste buds. Let your viewers crave every item in your recipe. Make your recipe stand out and appeal to everyone. Show passion, reflect professionalism, and elegance. Through these multi- purpose menu templates and different menu template ideas, you can customize with your menu offering, choose the colors and play around the design and guess what?! All by yourself. Start now and get your appealing menu design now!
Different menu design ideas
These are the catchiest menu design templates that shall flourish and reflect amazingly on your business. Don't hesitate and start scrolling down the different menu design template ideas. Stand out and start to customize the menu template that you like the most. Some of the menu design ideas are as the following:
Summer Drinks Menu Maker Design Template
This is the most fresh and modern design template for having an attractive menu. You can see how it draws attention and how it impacts your customers' cravings. The colors of the delightful yellow along with the bright light blue, do the impressive effect.
Online Summer Drinks Menu Maker
Arabic menu with red and black background and food design template
It is the menu of the powerful impact and the strongest effect. Get your customers inspired and influenced by your strong menu design effect. Black and red colors never fail in creating a powerful impact.
Menu design template of oriental desert
This menu has a delicious, eye-catching and amazing influence. Get your customer's imagination to go wild and get this menu template customized in a few seconds.
Menu Design Template of Oriental Dessert
Free Ice- Cream Menu Maker with Online Template
This is one of the most dazzling designs ever for menus. It includes all the colors of freshness, sweetness and mouth watering designs. Get this design with its amazing look and stand out in the market. This is the most attractive menu design ever. It is a very colorful design template like no other.
Grill Menu Design Online
This is a very well designed and even a winning menu template if you are looking for a grill menu design. It leaves a lot for your customers to wish for. It is a mouthwatering design with an amazing insight. Get it now!
BBQ | Grill Restaurant Menu Templates
What are you waiting for to boost your business? Choose now from these amazing menu design templates and stand out in the market. Be competitive with your amazing menu design and show care, professionalism, and passion. Food is an art and thus, get the p=most striking design ever for your menu. Start now!