Impressive Certificate Design Ideas for Your Inspiration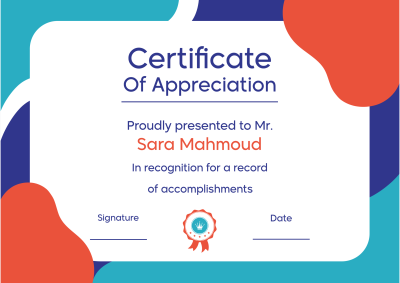 Certificate ideas
Are you looking for a professional certificate yet a catchy one? Tasmimak is offering you a miscellaneous design of different purposes certificate design templates that will definitely meet your highest expectations and highest hopes. Get the most creative and amazing certificate that shall draw a magnificent effect and create a strong impact over your viewers. Here is one of the most creative and fresh certificate design ideas in the templates offered. Choose the design you like the most and take a major role in the editing and designing of the final look for the certificate design. Get the certificate design that shall make everyone talk about now!
Different ideas of certificate design templates offered
These are one of the most diversified libraries of certificate design templates that you would find over the internet. You don't have to seek the help of any graphic designer to help you out with the design as you can take the designing of your certificate all by yourself through the online design maker. You can incorporate your ideas, shapes, colors and designs as you wish. These templates are 100% customizable. Some of the ideas of the certificate design templates are as the following:
Modern certificate of appreciation
This certificate design is having the blue color and the lines of yellow which reflects professionalism and the design reflects creativity and the modern design. Stand out and choose this modern certificate and customize it now!
Modern Diploma certificate template
This is a very colorful design with some graphic shapes on the sides and these shapes and design are amazing to make your certificate stand out like no other. It is an eye- catching design that boosts self- confidence and creates a lifetime memorable effect.
Professional Certificate Design
Classic certificate award template
This is one of the certificate design templates that mix between the gold and the black. Moreover, it shall show a powerful impact over the audience and the certificate receivers. Make them proud and make them happy with this standing out, elegant and unique design.
Certificate Award For Teachers
Simple flower certificate template
These are feminine certificate designs that are meant to express feminine effect and they show beautiful design with simplicity. The light colors of the design reflect freshness and boost the mood like no other. Choose now and stand out. Blue certificate of appreciation template. If you want to reflect science degree, experience, skills and hard work that has been exerted, then this certificate design template says it all. You can customize the name and the text as you like. Stand out with customization of this design. Start now!
Professional Certification Easy Editable
Get the certificate design of your dreams. Stand out with having your highest expectations met in these certificate designs like no other. Impress and influence your audience. Get now the design you like the most and customize it in a few minutes. Reflect professionalism and get a significant certificate design with the colors you like the most and the design you relate to. These certificate design templates are made to suit your different needs and meet your demands perfectly. Create now!