Flat Icon, the new Revolution in Graphics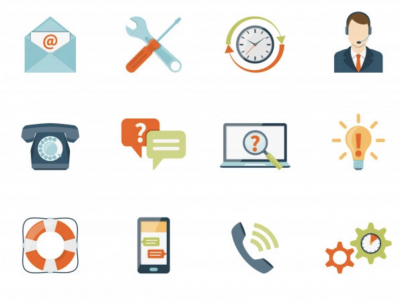 One of the new west trends in icons and logos is flat icons. They have been there more than 3 years and still, they are going strong. They have been found to draw the attention of the customers and they fit best for the brand identity. Icons are very important in the creation of web designs. Icons have been going for many more than decades as you can find them in the expression of many entities as restrooms, arrows, signs, elevators, and others. Icons identify us to the world around us in a subconscious way. Icons identify any content, information, data, features, and designs and help to make them stand out. They draw the attention of users. Over the past years, users don't want to read and they would rather have the information from a picture or a sign. Icons do that.

What are Icon styles?
There are a variety of styles of icons, such as black filled, hand-drawn, gradient, flat, black outline, lineal color, and these styles have many variations such as the terminations, the stroke thickness, shades, and more. We will go through some of the common styles that have high impact and high drawing of attention:
Black Outline
These icons are showing by strokes and they look very simple. They have high power in the illustration of abstract meanings.
Black Filled Icon Style
This type is made of masses of black color and it is the main color. It has omissions of strokes. It is used to provide illustrations of primary subjects.
Hand Drawn Icon Style
Another well-known design is hand-drawn. It shows that it is made by high digital techniques and it is an imitation of graphic artistic tools. The style provides the icons with highly dynamic styles as well as an easy-going impression.
Gradient Icon Style
This style has been developed from the flat icon and it has no spot of colors. It is mainly using gradients that provide more depth and provides more dimensions to the shapes and the styles of the regular icons. They became a new trend over the past two years and have high acceptance.
Lineal Color Icon Style
This icon has been composed by using strokes and it is filled by color. The style of the icons has been showing growing popularity.
Flat Icon style
Flat icons have been created through the Lineal style variation and it has different color combinations that are all flat only. This is one of the best icons to leave an impression, draw attention and influence the viewers.
For the high impact that flat icons have, we will discuss here the main features of the flat icon:
What is a Flat icon?
Flat Icon is one of the highly extensive libraries. It has an interface on the website that would show it is very easy to be used and fast. Moreover, it saves a lot of time and provides you with the rocking design and style for your project. You can check Flat Icon templates on Tasmimak.
What are the main features of the flat icon?
1- Free versions
Do you know that you don't have to search a lot on the perfect design as there are free versions that give you the cool look? Free versions are downloadable and you can try them and see the effect on your audience and projects. However, free versions might be limited. But the flat icons are providing you access to use but they are not in the case of flat icons.
2- File formats
You can download the flat icons in several file formats that would match your projects such as PNG, SVG, EPS, PSD, and Base 64. This is a very important feature since it will allow you to use them in any project. You can be able to change the colors and add others that would help you with the design.
3- Customization
Flat icons can be customized very easily. They can help in providing you with the favorite feature and the ideal one for your brand and project. They can be in multiple file types as the SVG and the EPS and thus, it allows the designers to create designs with multiple formats as the SVG and the EPS. These formats would be allowing the designers to vector create changes, as well as this, will allow them to be creating more unique designs.
4- Easy Search
Flat icons have powerful feature in that it allows the customers to identify what they want and what they are searching for in a matter of seconds. They do not have to waste a long time searching and identify what they are looking for.
5- Downloaded Packs
The flat icons would help in the creating of consisting styles by offering you the ability to download in packs. Moreover, it shall help you with your designs. Once you select a certain design, you will have an icon pack that is downloaded along with it. You can use them in various designs and styles that would be creating a positive impact on your project.
6- Pattern Generator
This feature allows you to be able to use flat icons on the background with different styles. It is very easy, fast and eye-catching.