Business cards that stand out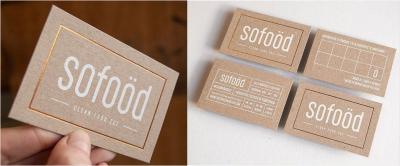 Business cards that stand out
If you are trying to create a that stands out and create a memorable impact, you have to consider the message that you want to convey by looking at the card.
Customers receive plenty of business card, it is important to seek creativity and catchy designs to deliver your message without saying it. Business card templates can be able to say a statement about you. You can say you are trustworthy, you are credible and you are their best option. You can say what you support as you support the environment, animal activist, or feminist. You can say you are the best company in the market by very simple designs or by moving around typography. You can be able to have an impact without they even meet you.
Here are business card design tips that you can consider for your business card creation:
Fun and Games Business Card design
Using 3D letterpress business card design can create a memorable design along with drawing attention and catchy. It will increase the time that your card is in the hand of the viewer and it shall create an impact.
Crafty and Metaphorical Card designs
If you're looking for more ideas for a die cut 3D stand up business card, then choose to have diagonal designs, 3D, and use bold colors. It will be reflecting specific designs. It should be showing creativity and it shall definitely draw the attention to your card more than others.
Clever Illusion
Creative designs shall be playing an important role in attracting potential customers. The lines and unconventional shape would be creating the illusion of a 3D object which is actually created two dimensional. Creativity guarantees more double looks and more consideration. You can stand easily among the crowd with your card.
Simple and Luxurious Business card design
If you want to represent luxurious brand along with elegance, then go for sparkle gold and vintage fonts.
Minimalism and Simplicity card design maker
Use plenty of white with an elegant font, as it will communicate minimalism and that is one of the most common techniques in the business card design industry. However, the more you manipulate your font, the more it will reflect simplicity that stands out.
Elegant and Stylish Business card template Design
If you want to convey messages of beauty, simplicity, elegant and fresh, then consider the simple design with colors as golden and silver or the light color pastel.
Ingenious Subliminal message
Using blind letterpress, it hides a message within a message and, thus, it would be leading that there would be another second look. It helps in getting you noticed and show the intelligence you have and catchy design it is.
Mint Color Business Card Designs
Mint color in the design starting to get very trendy and it is one of the color pastels that are booming. You can use the mint color If your brad personality is matching the color.
Rustic and Natural Card Design
You want to communicate sustainability. You want to communicate your stand from the environment, you want to show what you stand for, natural designs with simplicity started to become very trendy especially with the global awareness towards the importance to protect the environment are coming to place.
Antique Card Design
If your brand is very authentic, trustworthy and your company has proven line of credibility, originality or that you want to show that in your design, you can use the Antique design. It gives the classic look along that it is very catchy.
Retro and Black card designs
This impressive black in the background and the letters in calligraphic design on business card is sure to catch anyone's eye. I is very stylish and adds a nice dose of texture, over a black background makes for an impressive design.
Vintage Typography business card design
Using unique letterpress design that would be bringing the fore to the designer's talent for brand and logo design will help in the standing out of your card.
Natural and Organic
free business card maker
They would be showing the fresh and clean of your product. It works the best if your product is as vegetables, fruits, skin care products, organic products and they speak freshness.
Via Pinterest
Ecological Design
online business card maker
Get distinguished by showing how your business card is different than the rest. Show that you support the environment and that you stand up for the protection of the environment. You can use an ecological stamp that show your stance and it can be even printed on recycled material.
How can you design your own business card?
You can use Tasmimak as they have the best designs that will be able to set a statement about you and exceed your expectations. Business cards can help you stand from the rest and it can help that your card get picked faster than the other cards. Be creative and get distinguished. Tasmimak shall help in the design process of your card. Browse design now!